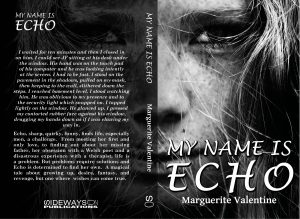 "I waited for ten minutes and then I closed in on him. I could see JF sitting at his desk under the window. His hand was on the touch pad of his computer and he was looking intently at the screen. I had to be fast. I stood on the pavement in the shadows, pulled on my mask, then keeping to the wall, slithered down the steps. I reached basement level. I stood watching him. He was oblivious to my presence and to the security light which snapped on. I tapped lightly on the window. He glanced up. I pressed my contorted rubber face against his window, dragging my hands down as if I was clawing my way in."
Urban, angry and quirky, Echo is a young woman who won't take no for an answer. Written in her own words, she  tells the story of her journey from childhood to adulthood. With more than her fair share of joys, fears, and disappointments, it's men that cause her the most grief.
From the unaccountable disappearance of her first love, her failure to seduce Gareth, a Welsh poet, to a traumatic betrayal of trust, Echo finally concludes enough is enough. She plans revenge but in her own sweet idiosyncratic way. Told with dark humour, this is a tale of sexual politics for the twenty-first century.
Buy Echo on Amazon Kindle
The current edition is published by Sideways On Publications.
First published by Silverwood Books 11/01/2016 as ISBN 978-1-78132-415-8.
Follow Do the Write Thing !'s board 'ECHO' on Pinterest.
Follow Do the Write Thing !'s board 'ECHO' on Pinterest.
Reviews for this book:
REVIEW: Echo

Bristol author Marguerite Valentine's new novel Echo documents a young girl's transition from troubled adolescence to adulthood in uncompromising detail. Stylistically, meanwhile, the book seamlessly melds realism and magical realism. Marguerite took time out of her busy schedule to talk to Bristol/24! 7 - starting with her influences and background and when she began to write. "Thinking about influences on my writing, I realised fairly early on that for many, life is tough, usually because they've been dealt a bad hand of cards - but it's how they play those cards that's of interest to me. My work and background in sociology has helped to make sense of that, as well as having lived in London and visited some of the more remote parts of the UK. As a child Marguerite was an avid reader, sometimes changing library books twice in one day. "The stories I read, the places I've lived in, and the people I've met live on in my imagination, and these thoughts and experiences are the basis for my novels. I've always loved writing. At first I wrote academic papers on psychology, eventually moving onto film analysis and from there, I began writing fiction. Stories bring everything together - people, places, events - but, more excitingly, I can go with my characters wherever the story takes me." Echo has been described as a book for young people. Did Marguerite write it for a target audience? "As a therapist and ex-childcare social worker I've realised that how some young women see the world is often misunderstood. I wanted to write something from their point of view, to show how their feelings, aims and mistakes are often linked with earlier experiences. Echo is an anti-hero but she's a sympathetic character, and one I hope that the reader will like and feel warmth towards. My target audience is anyone interested in how and why young people develop the way they do." The novel also examines the importance of a strong, positive father f1gure in the development of strong young women - and, conversely, the negative effects of abusive therapist-client relationships. "In Western society, the father-daughter relationship is not seen as fundamental as is the mother's role. Yet he contributes from a different perspective to who she is, her femininity, her dreams and desires. In my novel, both Echo and Ivan struggle to come to terms with not knowing their father and Gareth's role in the story is important here. He represents the good father, the one who sees through Echo's attempts to seduce him to the desperation that lies underneath. "JF [the novel's therapist] is a maverick- but the sexual and emotional exploitation of clients does go on. I would hope it's rare. It's certainly something that training organisations are aware of, which is why therapists are supervised closely during training and after they've qualified." And what does the future hold for Marguerite I'm working on a sequel to my f1rst novel, Between the Shadow and the Soul. The main character is an undercover agent employed by a private security f1rm to infiltrate an environmental pressure group. It just so happens he's the baby now grown up, the one Flori stole in that story. "The story begins during the 2008 financial crisis and brings together the personal and political in a much starker way than my previous work. But it's all part of ongoing quest to understand what motivates people, how this influences their lives - and how they might change." Lou Trimby - Bristol 24/7

Review: Echo

Echo is sharp and sassy – she courts challenge – meeting and losing her first and only love, discovering hidden information about her missing father, an obsession with a Welsh poet, and the very person who should help her – lets her down spectacularly – the revenge is sweet and entertaining. You will love Echo from the beginning to the end    -  It is a compelling read. Lorraine Edington

Review: Echo

Echo – Marguerite Valentine. This page-turning novel is set in a dramatic landscape that reflects Echo's early experiences in handling relationships. We are taken on an adventure into the heart of a feisty teenager who doesn't flinch in adversity but remains true to herself whatever the circumstances. Anna Schlesinger (5 stars)

REVIEW: Echo

Marguerite Valentine's novel Echo, transports the reader in the, often irritable, humourus and also painful and tender world of the young adolescent : Echo. Echo, tries to separate from her mother, without the help of a father, who left Echo and her mother when Echo was born. Echo's efforts to try to find a father figure in the outside world, without having had any experience or capacity to discriminate between seductive and real affection, results in her having to learn from bitter experience, who the people are who have her real interest at heart. For Echo to transform into the adult, who calls herself Anja, she has to learn to listen and develop her own authentic voice, first represented by Echo, by a newly aquired handbag, which gives her a sense of a new identity. Echo also will experience her own capacity to seduce as well as her capacity for revenge, and learn to moderate both in the process of becoming the adult Anja. The novel is set mainly in two locations, firstly the countryside of Wales, at the border of the Severn, within the surrealist painter world of her mother and friends, where Echo spends her summers. Secondly, the city scape of London, where Echo spends her childhood with mother and chilhood friend, as well as her college student days, where she becomes part ot the world of recycled fashion, as well as the world of therapy. The descriptions of both these worlds, come very much alive in Marguerite Valentine's writing, and give Echo/Anja, a believable environment in which her transformation can take place. Marguerite Valentine manages to takes the reader along in her novel,by stimulating the readers desire to know how Echo will develop, and find her own identity, and by her lively descriptions of Echo/Anja's internal world, those surrounding her, as well as her description of nature and the city. Marguerite Valentine manages to bring the novel to a satisfactory conclusion, with Echo's transformation into the adult Anja, who has found her own voice, and able to create a genuine relationship with her first childhood boyfriend, with the help of some caring adults. Martine Telders
Category: Fiction
Muse news for this book: